Climate plans from Stabenow and Warren, lead in local cities, pollution persists in the Detroit River
October 11, 2019 | CO2 2019/2018 408.33 / 405.34 ppm <<--www.co2.earth/daily-co2
Ice fishing on Lake Huron. Photo by Amy Sacka, one of several Knight Arts Challenge Detroit's winners with projects focused on the environment.
Planet Detroit's first event almost sold out
We're bringing together local journalists and advocates for a conversation on how we can better share information and best tell the essential environmental stories of our city, our region, and our time. Join us. Admission is free, but tickets are almost gone.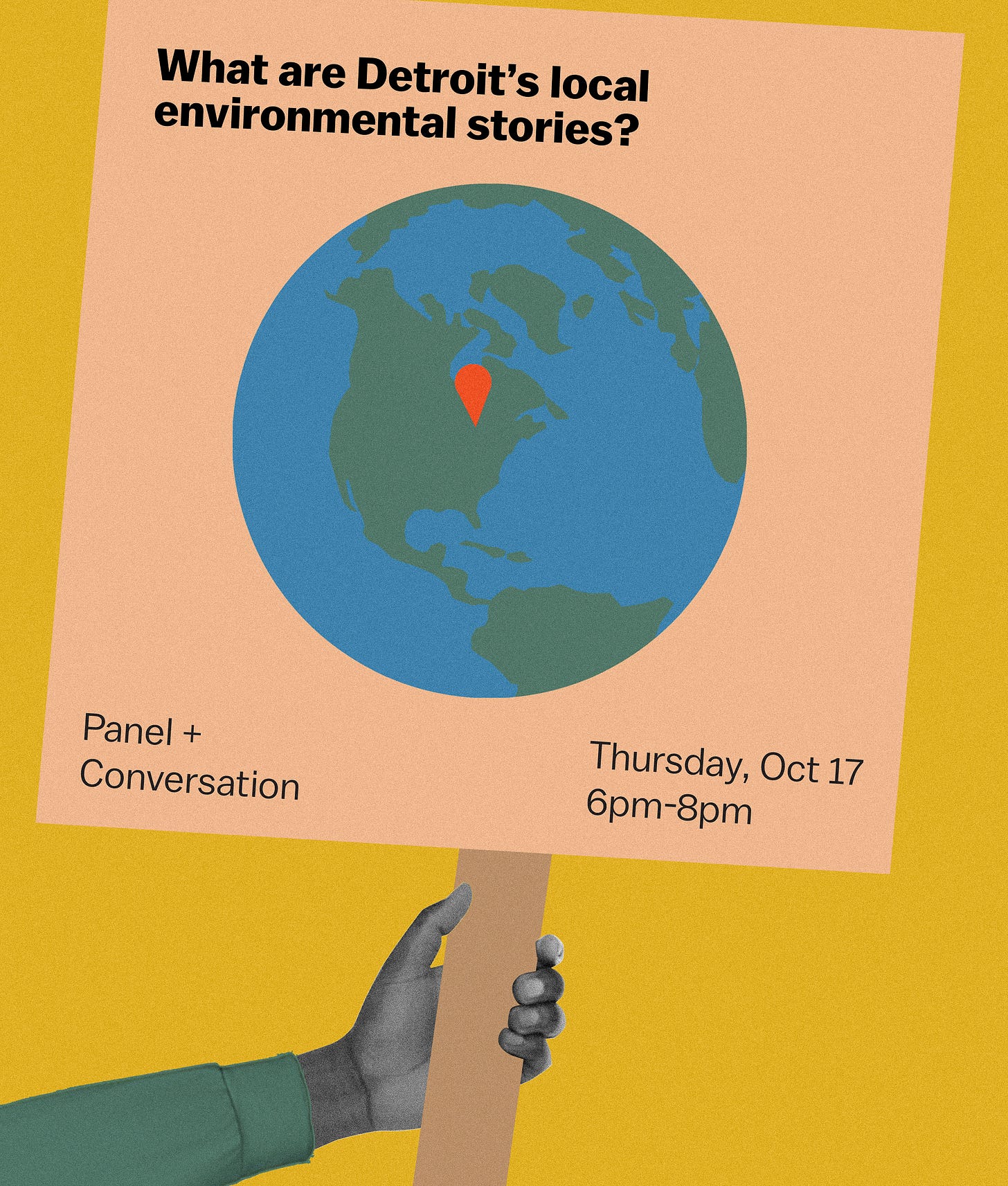 Stabenow drops climate report, presents crisis as opportunity for Michigan
Michigan's senior senator Debbie Stabenow issued a climate report last week that discusses a number of possible outcomes for Michigan as the crisis intensifies. The predictions outlined in the report—like increased algal blooms and a shorter winter recreation season—may not exactly surprise anyone who has been following these issues (like Planet Detroit readers) but it's still useful to have these challenges compiled and presented in plain language.
Stabenow's report cites public health dangers for Michiganders from climate change-related factors like mosquito-borne diseases and an extended allergy season, as well as the economic threats to shipping and agriculture. It also presents climate change as an opportunity for the state in terms of clean energy and electric vehicles.
From the report:
Michigan is poised to lead the way, ranking first in the Midwest for clean energy jobs and fifth in the country. The state's clean energy industry is expected to grow another 9% in 2019—more than double its growth in 2018, and more than any other state in the Midwest.
Stabenow's report sidesteps discussing climate threats in a national or global context and does not mention climate justice. In the past, Stabenow has endorsed some elements of the Green New Deal that seeks to link climate action with social justice but has criticized aspects of it as well.
Elizabeth Warren has a plan too
Presidential hopeful Elizabeth Warren last week unveiled her plan that addresses climate and environmental justice issues specifically. Among other things, she would address pollution in hard-hit communities including Flint, Detroit and the Navajo Nation. (Warren had previously issued a document that dealt with climate change more generally, including a number of ambitious goals for reducing emissions from transportation and power generation.)
Detroit receives special attention in Warren's proposal, especially the 48217 zip code that is believed to be Michigan's most polluted. The report is frank about what caused these problems:
We didn't get here by accident. Our crisis of environmental injustice is the result of decades of discrimination and environmental racism compounding in communities that have been overlooked for too long. It is the result of multiple choices that put corporate profits before people, while our government looked the other way. It is unacceptable, and it must change.
To advance the twin goals of social justice and environmental action, Warren wants to make her Green Manufacturing Plan contingent on companies offering fair wages, benefits and collective bargaining rights. The document also seeks to make companies declare their emissions and exposure to climate risk through a Climate Risk Disclosure Act and includes action on clean water, prosecution of corporate polluters and additional funding for the Conservation Stewardship Program on farms among many, many other things. Seriously, there is a lot of stuff in there.
Lead problems persist in Metro Detroit
Half a decade since the beginning of the Flint water crisis, lead continues to emerge as an issue in many Michigan communities. Here's a roundup of a few stories from just this past week that hints at the scale of the ongoing crisis.
The Detroit River still has problems
Although the recovery of the Detroit River is often touted in the local press, a recent report in the Windsor Star suggests that there is still work to do to mitigate the centuries of pollution that have been deposited in the waterway. As Sam Noffke from the Michigan Department of Great Lakes and Energy (EGLE) recently said at a meeting in Windsor, "The entire Detroit River shoreline needs remediation." He also said, "No area in the Detroit River is clean."
These comments come after 873 samples of sediment from the river were collected and tested. Many of them showed significant quantities of lead, mercury, asbestos, chromium, cyanide, and pesticides. The highest concentration of contaminants was found near the former Uniroyal site, close to Belle Isle. EGLE officials suggest that it will likely take years and a significant amount of money to clean up the contaminated sentiment.
Indiana steel mill spews waste into Lake Michigan again and again
In what sounds like a very high level of pollution indeed, the Chicago Tribune reports that the ArcelorMittal steel mill east of Gary has violated clean water laws more than 100 times in the last four years. The most recent release of concentrated cyanide and ammonia killed thousands of fish in Lake Michigan.
So far, neither the U.S. Environmental Protection Agency nor the Indiana Department of Environmental Management has disciplined the plant for any one of its numerous recent violations, prompting groups like the Surfrider Foundation (one of this nation's groovier non-profits) and the Chicago Law Department to push for federal judges to crack down on the company. An editorial in the Chicago Sun-Times suggests that the failure to hold ArcelorMittal accountable is due to budget cuts and a lack of interest in environmental enforcement on the part of the Trump Administration.
Solutions & Bright Spots
Some brighter spots we found in the news this week:
READ THIS: NYT mapped transportation emissions
***SPONSORED EVENT***
3rd Annual Sustainable Detroit Forum
Wednesday, October 23rd, 9:00am- 5:00pm EST 
TCF Center 1 Washington Blvd Detroit, MI 48226

We'll start the day with our morning keynote from Dr. Brandy Brown, followed by educational breakout sessions. During lunch we'll hear from a panel focused on non-motorized mobility and it will be followed by additional educations sessions and a networking happy hour. Click here to check out the full list of presenters. 

Early bird pricing has been extended to October 11th. Register today>>>

***Interested in our SPONSORED EVENTS space? Email us with your details at connect@planetdetroit.org***
CONNECT: Engage with Detroit's environment
Have an opportunity you'd like to see featured here? Let us know at connect@planetdetroit.org
October 12 | Local Native History | Detroit >>>
October 12 | Ferndale Tree Planting | Ferndale >>>
October 12 | Orange, Gold & Green: Fall Festival in Eliza Howell Park | Detroit >>>
October 15 | Detroit Urban Sustainability Happy Hour Kickoff | Detroit >>>
October 16 | World Food Day Bike Tour | Detroit >>>
October 19 | Sarah Garrett Park Planting | Hamtramck >>>
October 20 | Clinton River Trail Ride | Rochester >>>
October 25-27 | Great Lakes Bioneers | Detroit >>>
October 28 | Release Party - Geez 54: Climate Justice | Detroit >>>
October 29 | Your Water, Your Voice: Drinking Water Summit | Grand Rapids >>>
October 30 | Canning at home | Berkley >>>
November 2 | Fall Birding Hike on the Clinton River Trail | Rochester Hills >>>
November 6 | Seventh Annual Innovation in Conservation Awards Gala | Detroit >>>
November 8 | Michigan Interfaith Power & Light Conference | Detroit >>>
November 15-17 Grounding: Discovering our sacred gifts in a climate emergency | Guelph, ON >>>
November 20 | Michigan Sustainability Conference | Lansing >>>
February 29, 2020 | Quiet Adventures Symposium | Lansing >>>
Our ability to publish Planet Detroit hinges on you! If you are finding value in this newsletter, please FORWARD TO A FRIEND, SHARE ON SOCIAL MEDIA. Follow us on Twitter, Facebook and Instagram. Thanks for reading!