Detroiters, the climate crisis, and resilience
September 20, 2019 | CO2 408.63 ppm <<--www.co2.earth/daily-co2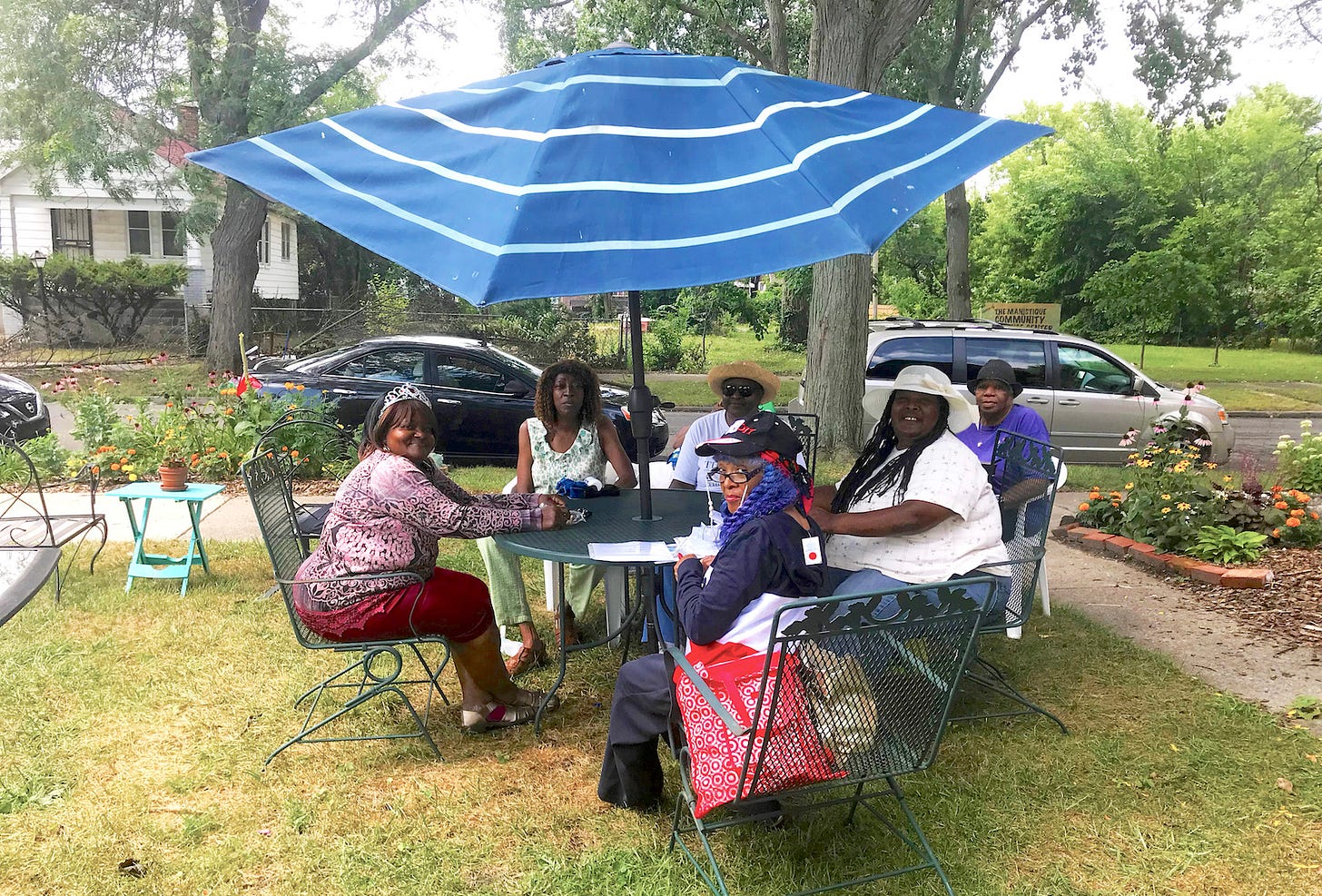 "The Women of Empowerment" in Jefferson Chalmers, August 2019. Photo by Nina Ignaczak.
Detroiters, the climate crisis, and resilience
A trio of recent articles by local writers look at actions that Detroit's residents and leaders are taking—or not taking—to address the climate crisis. What unites these pieces is the stories they tell of how city residents are facing failing infrastructure and climate-induced flooding and heatwaves that are especially severe in low-income communities.
Planet Detroit publisher and editor Nina Ignaczak's article in Belt Magazine takes a look at the "Women of Empowerment" on Detroit's east side who are working on ways to address these issues in their Jefferson Chalmers neighborhood.
She writes that the "utility burden" or cost of water and electricity for people relative to income in the neighborhood is very high, reducing the ability of residents to respond to stressors like heatwaves. University of Michigan researchers are studying how this affects residents and the potential of using "sustainability case managers" to improve health outcomes.
Meanwhile, "Women of Empowerment" are trying to fix some of these problems themselves by working with Distributed Power LLC to install solar panels on 22 homes that could reduce their energy burden.
Planet Detroit contributing writer Brian Allnutt's piece in Model D delves into heatwaves. He writes about how in neighborhoods like Brightmoor, water shutoffs, a lack of air conditioning and limited access to cooling centers or public transportation can make a heatwave much more deadly for Detroiters.
While some Detroit recreation centers are offering destinations for cooling, the city currently lacks a concrete heat plan. The Health Department's proposes to use police stations for cooling during a power outages. Eric Klinenberg, author of the book Heatwave on Chicago's deadly 1995 heat event, says of this proposal, "If this is Detroit's plan, what that tells me is Detroit is not planning."
And local freelancer and WDET Civic Reporter Eleanore Catolico writes in Yes! Magazine about how all of these problems set Detroit up as the perfect engine for the Green New Deal. She writes about how the Frontline Detroit Coalition, a local chapter of a national movement of communities at the front lines of environmental justice, is working to push an agenda forward with Democratic presidential candidates to connect the climate crisis with equity and jobs.
Why climate activists and U-M administrators clash over plans for carbon neutrality
In 2011, the University of Michigan announced its intention to cut carbon emissions by 25 percent by 2025. But seven years later, carbon emission reduction had stalled at just 5 percent. So after U-M President Mark Schlissel announced a new planning committee to develop a plan for carbon neutrality on February 4, a group of U-M students decided to demand more of their university's approach to addressing climate change.
Fallout continues from Marathon oil vapor leak
On Monday, U.S. congresswoman Rashida Tlaib, who represents the district that includes the Marathon oil refinery, convened a hearing for citizens concerned about last week's release of toxic chemicals from the facility in the 48217 zip code area that is generally regarded as Michigan's most polluted area. Several people were hospitalized as a result of the leak and ramps to I-75 were closed temporarily.
Several hundred people attended the hearing along with U.S. Rep. Harley Rouda, D-California, chairman of the House Oversight and Reform Subcommittee on Environment.
The Michigan Department of Environment, Great Lakes, and Energy is investigating the leak that was caused by a hydrocarbon mixture called "gasohol". A number of residents expressed worries about odors and pollution emanating from the plant. Tlaib seconded these concerns:
"This is very much becoming a pattern for the refinery and I know my residents are increasingly feeling very much that we need to do more to hold them accountable that these kinds of toxic outputs are not repeated," Tlaib told reporters after the hearing.
A statement issued by Marathon Petroleum said: "We regret the unintentional release of vapor that occurred yesterday and apologize for any inconveniences this may have caused in the local community."
DTE Energy announces plan to bid out renewable energy projects
One of the criticisms of DTE Energy's plans for renewable energy sources has been their failure to bid out projects to smaller companies, which might be better positioned to deliver in a cost effective manner. This situation changed this week with the utility's Request for Proposals (RFP) from small wind and solar companies to produce between 25 and 100 MW of solar energy and 100-200 MW of wind.
Overall, the utility is proposing to add 775 MW of renewables by 2023 to comply with Michigan's Renewable Portfolio Standard mandate. The company is looking to purchase and own these projects rather than sign power purchase agreements (PPAs). In the past, solar advocates have argued that utility-owned projects are more expensive than "third party solar".
Planet Detroit has reported previously that although DTE's goals for renewables put it broadly in line with the carbon reduction targets of Paris Agreement, their rollout of these goals could push implementation towards the end of this timeline.
Great Lakes' fish are moving with the climate
This week The Free Press' Keith Matheny put out a story documenting changes in Great Lakes' fish populations linked to climate change. As air and water warm, cooler water fish like walleye are disappearing from some inland lakes and warm-water fish like smallmouth and largemouth bass are moving north into areas they've never been seen in before.
Bass species moving north at a rate of 8 to 11 miles per decade, according to University of Michigan researcher Karen Alofs.
Matheny's article examines the complicated and unpredictable ecological impact of changing fish populations, as well as the effect this could have on the 1.1 million anglers that contribute $2.3 billion to the economy each year. And, of course, all this doesn't stop at fish, as Alof says:
Fish can act as a canary in the coal mine, and be indicators of environmental problems as they emerge.
Using sewage sludge on croplands might have been a bad idea
A widely circulated report from the AP highlights the dangers of using "biosolids" as fertilizer. The article focuses on Lapeer, Michigan, which has for years sent excess sludge from its wastewater plant to farmers, who have applied the treated sludge to agricultural land. That sludge has now been found to contain PFAS, which has made its way into food and drinking water.
Lapeer isn't alone, as biosolids have been used extensively across the country on farms, yards and golf courses among other places. The extent to which this could be impacting the food system isn't known. And, at present, government agencies don't seem to be providing much direction, the AP reports:
… despite growing evidence that at least some sludge is contaminated, the federal government hasn't limited PFAS in fertilizer or developed a standard for determining safe levels. That leaves fertilizer companies and farmers wondering what to do and fearful of consumer backlash.
Trump, California, and auto emissions
This week, President Trump revoked the state of California's federal waiver giving it the authority to set its own vehicle emission standards. In July, California had reached an agreement with Ford, Honda, BMW and Volkswagen that exceeded federal emission standards. The state of California's attorney general is expected to sue the administration over the move.
SOLUTIONS / BRIGHT SPOTS
We at Planet Detroit know we're pushing out a lot of disturbing information, and we want to make sure we're also highlighting solutions. We intend to develop a more strategic way of doing this as we grow. For now, here are some brighter spots we found in the news this week:
WHAT TO READ: Vice News' "Tipping Point" series on environmental justice
***SPONSORED EVENT***
***Interested in our sponsored events space? Email us with your details at connect@planetdetroit.org***
Connect: Engage with Detroit's environment
Have an opportunity you'd like to see featured here? Let us know.
September 21 | 13th Annual D-Town Farm Harvest Festival | Detroit >>>
September 21 | Applied Soil Mycology with Leif Olson (hosted by FungiFreights | Detroit >>>
September 21 | GET LIT! + BFED . BBQ w/ Soulardarity | Highland Park >>>
September 24 | The Gardening Guru: Soil, Water and Hardscapes | Southfield >>>
September 25 | Anthropocene: the Human Epoch | Michigan Theater >>>
September 26-27 | Michigan Water School | Northville >>>
September 29 | Detroit Abloom's Annual Dahlia Festival | Jefferson Chalmers >>>
September 30 | Michigan Paddle Stewards | Gibraltar >>>
October 3 | Your Water, Your Voice: Great Waters, Great Economy Summit | Lansing >>>
October 3 | Six Rivers'Regional Land Conservancy Conservation Celebration | Rochester >>>
October 4 | Wild Night Out | Pontiac >>>
October 5 | State of Compost | Detroit >>>'
October 5 | Community Treehouse Center Detroit Solar Tour | Jefferson Chalmers >>>
October 9 | Bees, pollination and beekeeping | Clinton Township >>>
October 29 | Your Water, Your Voice: Drinking Water Summit | Grand Rapids >>>
November 2 | Fall Birding Hike on the Clinton River Trail | Rochester Hills >>>
November 20 | Michigan Sustainability Conference | Lansing >>>
Thanks for reading!
Our ability to publish Planet Detroit hinges on you! If you are finding value in this newsletter, please FORWARD TO A FRIEND, SHARE ON SOCIAL MEDIA. Follow us on Twitter, Facebook and Instagram. Thanks for reading!