EVENT: Planet Detroit Panel + Conversation
October 17, 2019 | Room Project 6513 Woodward Ave Detroit, MI 48202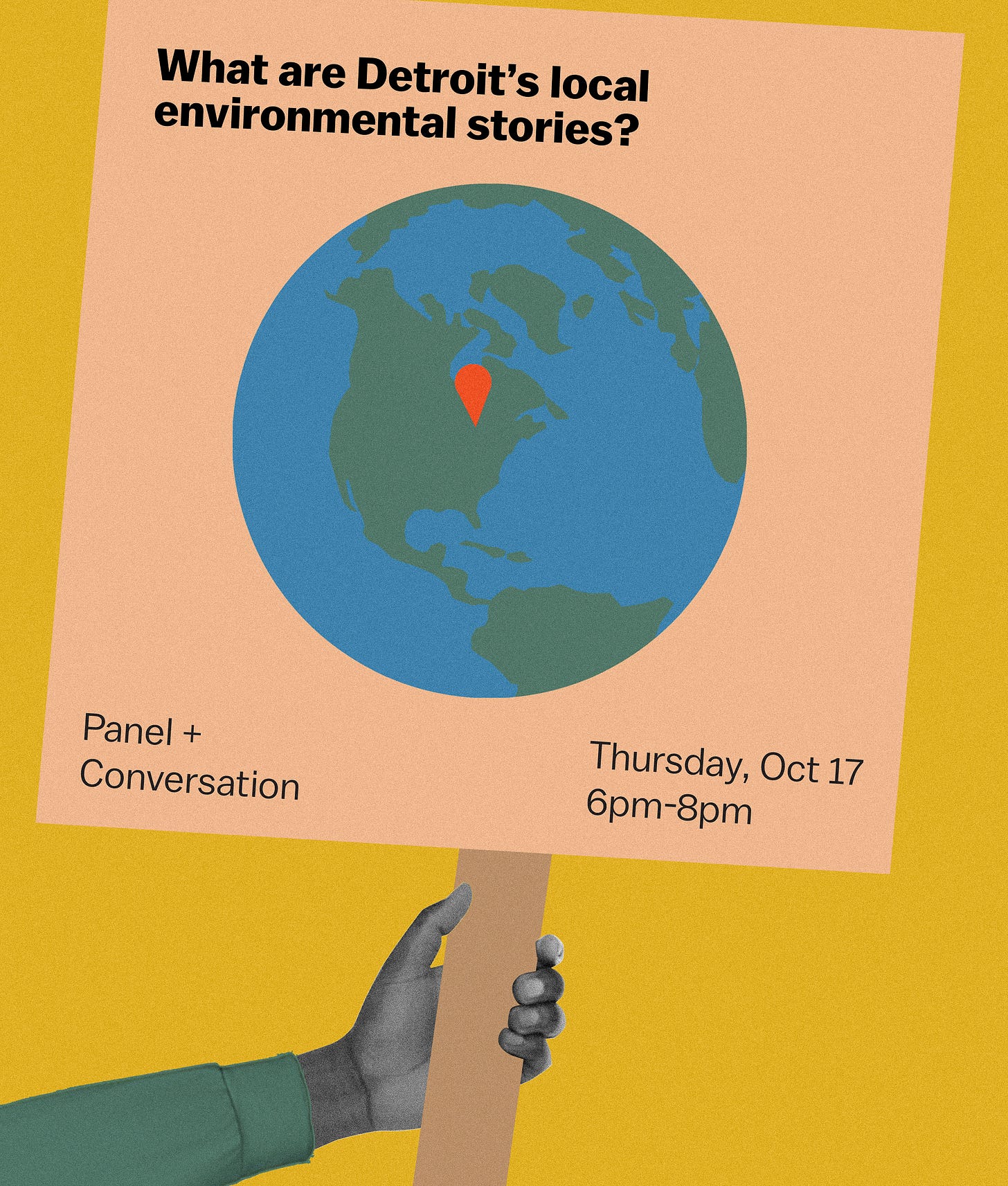 WHAT ARE DETROIT'S ESSENTIAL LOCAL ENVIRONMENTAL STORIES?
Panel + Conversation
Thursday, October 17
6 pm–8 pm

The air we breathe, the water we drink, the food we eat, and the climate we live in are fundamental to our health, safety, and ability to thrive. Understanding what is happening in our local environment is critical for each of us. So what are Detroit's essential environmental stories? How are they being told? Who is telling them? And what are the solutions?

Those questions will be explored in a panel discussion hosted and moderated by Planet Detroit. We're bringing together local journalists and advocates for a conversation on how we can better share information and best tell the essential environmental stories of our city, our region, and our time.

Moderators:
Nina Ignaczak and Brian Allnutt, Planet Detroit

Panelists:
Anna Clark, Journalist & Author, The Poisoned City: Flint's Water and the American Urban Tragedy
Eleanore Catolico, WDET Civic Reporter
Katlyn Alo, Outlier Media
Serena Maria Daniels, Tostada Magazine
Martina Guzman, Damon J. Keith Center for Civil Rights Race and Justice Journalism Fellow at Wayne State University
Nick Leonard, Great Lakes Environmental Law Center
Rhonda Anderson, Sierra Club
Michelle Martinez, Michigan Environmental Justice Coalition
Danielle Todd, Make Food Not Waste

TO RSVP, register at Eventbrite (admission is free): https://www.eventbrite.com/e/what-are-detroits-essential-local-environmental-stories-tickets-75312163709

Planet Detroit is a free weekly email newsletter that explains what's happening in the environment in Detroit and Michigan. Learn more at planetdetroit.org
____________________
This event is free and open to all gender expressions but requires an RSVP via Eventbrite.